0 comments
Rui Min's Wedding + Movie 'The Ultimate Winner' Experience posted at 11:51 PM
My Cousin's Wedding



Congrats to Rui Min!! :D you looked awesome that day!! (;

Aiya, that day my make up should be nicer since it's a wedding event!! but after that i actually have work (keep on reading) so i had to have a bare face with only foundation on (-.-*) and hidden eyeliner. I was so tempted to put on eye shadows and blusher on to have more colour but decided against it since i had to bring makeup remover out then.

So here are just some pictures for that day!


Sorry for the bad lighting :( had bad photography skills that day!



Rui Min giving her speech at her church and was tearing ;')



Me and my beloved sis!!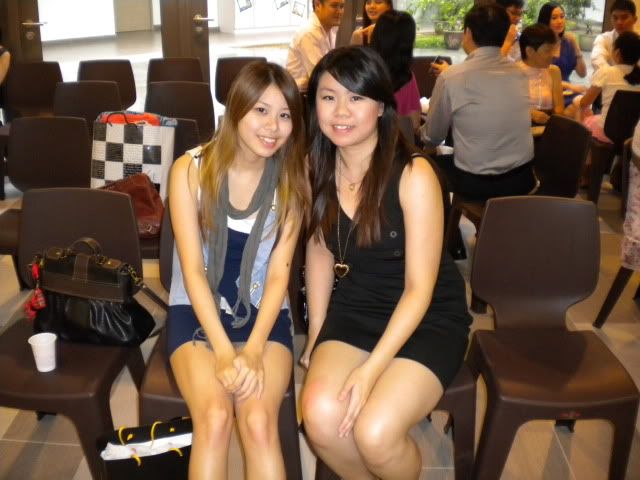 With mom! LOVE!



an instant photo that was printed out for us that day! sorry, for blur picture!


'The Ultimate Winner' Movie - Non-Speaking Role Experience!



I'm so happy and thankful that i managed to have a non-speaking role (aka waitress) in a upcoming local movie called ''The Ultimate Winner". Starring 阿哥李南星 Li Nan Xing as a actor and Debut director!

i was actually SMS-ed by my agency a few hours earlier to go for the audition. i rushed to the place which was quite scary because it was an unfamiliar place for me. In fact, i cabbed there! But thank God that i managed to get the role in the end. Couldn't take any pictures there though since there was this big sign saying no pictures are allowed.

When i went in, i was quite nervous. In my mind i was thinking "okay, linn, remember to introduce your name, company and

calm down

!!". In fact, my nervousness increased when i realized that there were more agencies that were sending their talents down. However, in the end the audition lasted less than 10 minutes and i was out of the place thinking what really happened. haha.

So a few days later, i got an notice from my agency saying that i got chosen! So happy that i was smiling to myself non-stop after that. Well, i know it's like a super tiny role (probably less than 2 sec of screen time?) but i knew that there was a opportunity to meet Li Nan Xing. i may not be a super fan of him but the thought a meeting a actor just perks me up. Plus i watched his dramas since i came to Singapore.

Anyway, on the day of filming, i met quite a lot of other people from my own agency as well. Got along with Jason who is a malaysian chinese in Singapore. I think the reason why we got along is because both of us are the 'waiter/waitress' there!



Thought might as well promote jason since both of us are starting out in our careers(; pic credits to jason's FB.(this is his portfolio's pic)


Anyway, like i was saying in this post earlier, i didn't put make up on because the people there were going to help me put it on. (all these events happen on the same day) It was suppose to be a 'super natural' make up so in the end they just put more foundation and a bit of mascara. and they styled my hair in the most weird way. (*note to self: never ever do it that way! you'll look super old) + according to jason, they styled his hair in a weird way as well. Anyway, both of us are not complaining since we knew it fit the role that we were portraying.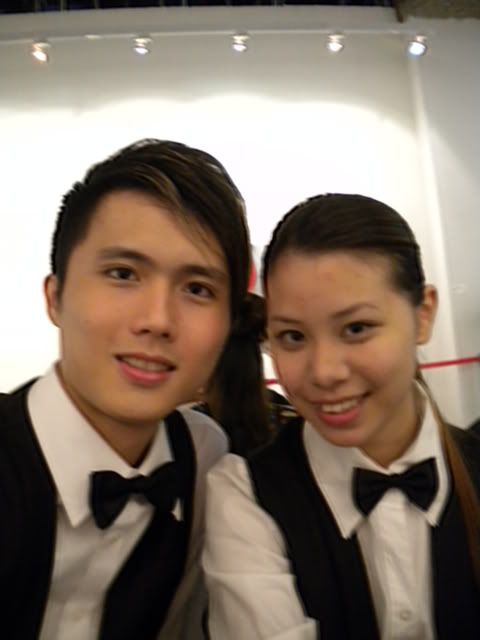 both of us in uniform and minimal make up and hair done.



Picture taken after filming (sorry for blur picture, was in a rush)


I retook my section like 10 times! i think they are super detailed in everything which is good. i'm glad to see the amount of effort put in this movie. they were telling me things like "you have to walk faster" on the first take or "don hit onto the side of the table" etc etc.

All in all, i'm really grateful for this experience!

P.S: wanted to take photo with li nan xing but he seemed like he was so into his role that i didn't dare to ask.



Oh and i saw this painting there and thought it was cool and took a picture. title: "you're apple of God's eye"

---------------------------------------------------------------------------------


Here's a picture from a catalog photo shoot for a wig store. (i'll probably blog about this some other time) P.S: this is done quite some time ago and if i'm not wrong is my first ever proper proper job in this area. so don't judge yah!! [thanks to shan for the job offer (; ]
About the Writer
Hello! ♥ I'm Linda/Linn and I love to write on
☆ Make up
☆ Reviews
☆ Cosplay
☆ Fashion
☆ Dogs
Quick Facts:
1. I'm born in Canada, Living in Singapore Now
2. Makeup Style: Korean
3. Fashion: Japan/Korean/US
4. Fav. Singer: Demi Lovato
5. Most Active on Instagram
P.S: I'm *quite* Narcissistic (as you can probably tell)!
Contact Me
For product reviews, event invites, advertorials, sponsorships, giveaways or even *wink* love letters (haha), please email me at
linnhearts@gmail.com
Hope to hear from you (:
Memory Lane