0 comments
Maido Cafe @ Nex posted at 10:55 PM
Maido/Maid Cafe at Nex to find Miyake

Before i start, find Miyake here. (http://www.myfatpocket.com/miyake/)

i think i started to like her and follow her blog after AFA because i was google-ing KANAME (Kaname's and my AFA cosplay post here) :D

Then i think she looks doll-like and japanese like. haha. And it just so happen that she's dear's fren fren. but of course i dont know her personally lah.

So when i was reading her blog, she said that the Maid cafe from AFA was going to be at Nex. Then i wanted to support her by going down. Plus i didn't go to any cafe when i was at AFA because i was cos-ing.

Anyway. i dragged Samantha along since she like anime as well. haha. (On a side note, go watch Kaichou wa Maid-sama because it's awesome!)

When i went there, we were immediately greeted by the Maids there with Japanese words like "Ojou-sama, something something." haha, couldn't catch their exact words cos they talked like so fast 0.0 Then we were greeted with this big sign on the wall saying "NO PHOTOGRAPHY". 0(>.<)0

Why no photography?~! haix. But i was allowed to take the food though. No taking with or of the Maids serving you. If you want to take a photo with them, you would have to pay $5!

I felt that the cafe was quite weird at first, but after awhile you kinda get used to it because every few minutes, the maids will talk to their customers. AND... if there is a maid cafe, they are tons of men. Come on lah, there was so little females there. the ratio of guys:female=10:2. Plus a saw a group of guys buying more cake cos they wanted to stay longer.

So we ordered the cheapest on the menu because everything there was like quite expensive. But then again, a portion of it goes to help Japan so im not complaining.

Then the maid who brought out the dessert was asking us if we would like to do some dance to make the cake "power-up" or something like that. haha. i side-glanced to samantha and we were like "er... it's okay, you can do it." Then she did some cute moves and apparently the cake would taste nicer. But hey, it really was nice though.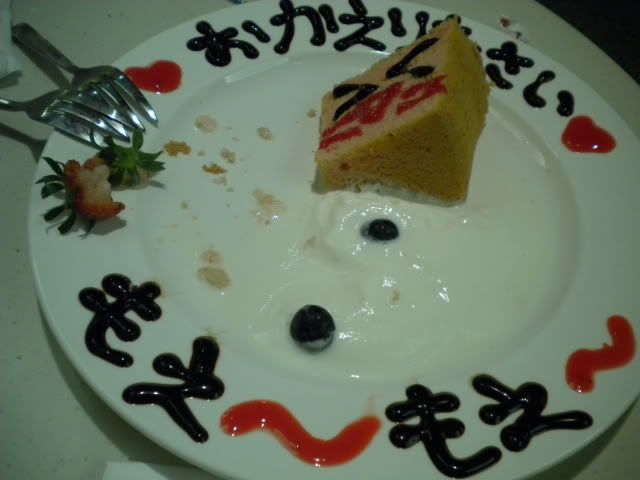 All the chocolate and strawberry drawings on the strawberry Chiffon cake is done by the Maids. Kawaii desu ne~?


After awhile, the Maid came to us and asked us to play 'scissors, paper, stone, Maid version'. So this is how it goes: you do some dance with your hands (like make heart signs) saying some japanese words like "Moe~ Moe~" and then you show scissors, paper or stone.

Of course, i played since they already asked and you can win candy. haha. I'm such a kid.

We played for a few rounds since we kept having a draw....

.

.

AND I LOST... (T.T) But i still get my candy. lol.

In the middle, they had a mini-singing performance singing "I'm a dreamer" (you know the theme song for Card Captor Sakura?) and i was surprised because they can SING!! wow.

At the end, i really wanted to take photo with Miyake but i couldn't find her in the cafe. So i straight away assume some girl who looks a bit like her to be Miyake. And i was disappointed because she looks so different from her blog and thought that she photoshop her pictures a lot. lol.

But i was still thick-skin and ask a random maid if i could take photo with Miyake (just in case she's at the kitchen or that girl really is Miyake). But she wasn't there. (-.-*)

So i told the Maid that we'll think about it because i really wanted to see Miyake. (God... i sound like a stalker)

HAHA, in the end we just went off and went to SUNTEC~~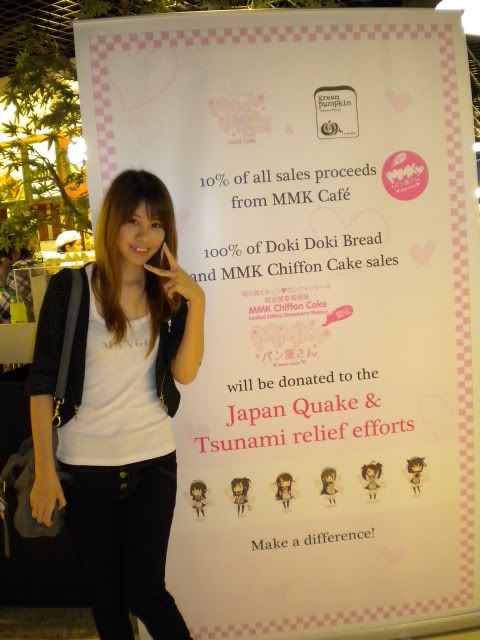 Taken outside with their sign.

--------------------------------------------------------------------------------------

'I saw a fairy' photo shoot preview:



Totally love this shoot. Sorry for low-res pics as i've not received the high-res ones. hehe.

Labels: Maid Cafe, Miyake, Nex, photo shoot
About the Writer
Hello! ♥ I'm Linda/Linn and I love to write on
☆ Make up
☆ Reviews
☆ Cosplay
☆ Fashion
☆ Dogs
Quick Facts:
1. I'm born in Canada, Living in Singapore Now
2. Makeup Style: Korean
3. Fashion: Japan/Korean/US
4. Fav. Singer: Demi Lovato
5. Most Active on Instagram
P.S: I'm *quite* Narcissistic (as you can probably tell)!
Contact Me
For product reviews, event invites, advertorials, sponsorships, giveaways or even *wink* love letters (haha), please email me at
linnhearts@gmail.com
Hope to hear from you (:
Memory Lane